We have successfully received the first container shipment of sargassum seaweed from Antigua & Barbuda. As our process development efforts are progressing we need more feedstock material.
To clarify, over the last four months we have successfully been able to trial the sargassum as an alternative feedstock in our Nauvu® biorefinery process development work, with great results. Moreover, this first large shipment of sargassum will allow us to continue the process development work and gain further insights into this alternative feedstock material.
A historic event!
This is a historic moment and event, both for us and our local partners in Antigua & Barbuda.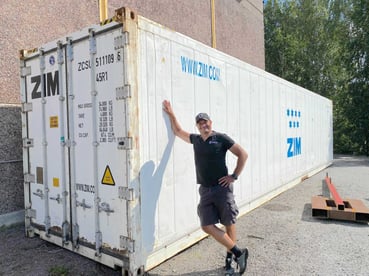 Why?
Because; this is the first time that sargassum has been shipped abroad for processing from Antigua & Barbuda. Simultaneously this is the first time that we receive such a large feedstock delivery!
Locally this first container-sized shipment has gained rather big headlines in the Caribbean region.
Now we are starting to utilize this feedstock delivery in our research and development work.
We are so excited! We are already making preparations for the next container shipment on both ends of the logistics chain.
---
Towards the next phase of our project
This first container delivery of sargassum seaweed is sort of a kick-off for us, into the next phase of our project. The learnings, findings, scientific breakthroughs and patents that we are creating as part of our project are quite substantial. Now, with this feedstock delivery, we anticipate further increasing our development phase, and gaining more knowledge and insights, taking us towards our integrated pilot.